Finally got my Ubuntu CD yesterday. I have to admit I was excited about this Jaunty Jackalope release ever since it was announced. On paper Ubuntu 9.04 does seem to be a serious contender for a viable OS.


Before I start, here's the contents of the package:

1. The Ubuntu CD case:

Looks seriously cool!





Here's how the case looks when on the inside: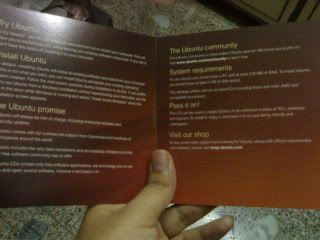 And here's the back side of the case: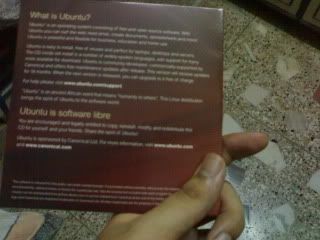 2. And the CD...beautifully designed!




3. Some stickers with the Ubuntu logo


There goes the packaging aspect. Really cool packaging for a free OS.


So next came the part of putting it to the test.


Ubuntu 9.04 came with the promise of a faster OS. Faster than all other editions of Ubuntu. Well they have delivered. The earlier edition of Ubuntu used to take around 5 mins to load, this one hardly takes 2 mins max!


As far as softwares are concerned some of them come pre packaged with the CD itself, but most of them dont. Apparently those are available on the retail DVDs of Ubuntu but as always are available for free download too. Anyway, the real dampener is the fact that Ubuntu doesnt support the more common audio and video codecs, say MP3, AAC, DIVX, XVID, MKV, etc. However it does have support for OGG and FLAC formats. So if you wanna become a Linux power user, you have to consider a conversion software. For the time being I tried FreeMP3WMAOGG converter. As the name suggests its free. But its a Windows software and I'm not exactly sure if this one has a Linux counterpart. Most probably it doesnt. Once an MP3 was converted I tried playing it on the Ubuntu default music player and it did the job quite well. Maybe it doesnt have as many options as say a Jet Audio or a Winamp, but for a bundled software, its as good as Windows Media Player (minus all those codec supports of course!).


The speed aspect has definitely been taken care of in this release and the OS is substantially faster than its predecessor, as I mentioned earlier. Most of the processes have quite a fast loading time, and the bundled Firefox works like a breeze. Its pleasantly surprising to note that Firefox has almost all the same popular add ons available for Linux as it has for Windows.


I did however face (and am still facing) a problem configuring my modem. The network settings available arent in the least user friendly, and its really a pain trying to get the entire network settings in order. In Windows setting up a network is so much easier. Tried configuring my modem for about 4 hours but then gave up. Way too confusing. I had to use the sudo pppoeconf from the Terminal for a quickfire setup, but lets say this is of course the less than ideal way of doing it. But to be frank I really cant blame Ubuntu for everything, the internet settings for BSNL via LAN is not really as straight forward as an Airtel broadband. I however gather that the WiFi settings of Ubuntu are far easier to configure; havent tried that one yet, so no comments on that.


Well thats about it really. This is quite a good release and a substantial improvement over the earlier editions. Lets hope Ubuntu keeps up the good work but as of now, its still got a long way to go before it becomes one of the major Operating Systems.